A happy new year to all our readers! We here at Before Hollywood are hoping for 2008 to be a big year for this blog and Brisbane music. With a massive amount of artists puring out of the woodworks in 2007, I've made an attempt at whittling it down to a select few who are likely to kick it loud in 2008. This list is by no means definitive, but if I can introduce you to one or two new favourite bands then my mission is accomplished.
Influenza
Influenza
are a band you'll either really love or really hate. Combining a sound reminiscent of Crystal Castles with a irreverent dose of late-1980s East Coast hip-hop thrown in for good measure, this duo has sneaked into this list on the back of a trio of good gigs this month.
Rooftop Nightwatch
Rooftop Nightwatch
have been attracting a lot of attention (including from us), and there is no doubt they keep on rising in 2008. As this article is being typed the band is recording its debut EP with producer Miro Mackie. With the wealth of great songs the band already has in its repertoire you can expect the EP to be a keeper.
Shakes


Any mention of Shakes is bound to be accompanied by Arcade Fire comparisons. But there is so much more to the band than that. Shakes combines that current indie pop sound with layers of atmospheric distortion and off kilter drumming. Betony Dircks' haunting vocals tie together the awkward combination to create music that is just screaming to be put on vinyl.

Shakes - Don't Let The Wicked City Get You Down

Shiver Like Timber


Not one to rest on her laurels, Betony makes another appearance on the list in the guise of her solo project, Shiver Like Timber. While an EP was released in 2006, it has taken a while for Shiver Like Timber's music to catch on. A number of mentions in interstate blogs and street press' are sure to propel her into 2008, however, and hopefully will be a catalyst for further recording.

Shiver Like Timber - Arctic Esplanade (Live At The Harvest Room)



Capital


Capital have been a bit silent in recent times, but don't let that fool you. This is a band full to the brim with Beatlesque guitar hooks and vocal harmonies, and anyone who has caught them live will attest to their ability to make the punters dance. If the band can continue to write pop gems like 'On My Way' then they could turn out to be a formidable force.

Capital - On My Way




Monster Monster


Daniel Wright, a.k.a. Monster Monster is the black sheep of this list. Instrumental hip-hop isn't widespread at the best of times, and in Brisbane it is next to non-existent. This makes the beats and bleeps of Monster Monster's music all the more endearing. Between sampling Dr. Karl and releasing songs on SD Card's, he has had the time to create the truly epic 'Nine Minutes And Fifty Something Seconds', a composition that comes off as a miniature

Endtroducing

. The track will be the first of what will hopefully be numerous releases from Monster Monster in 2008.




Re:Enactment


The Re:Enactment are quite obviously influenced by Nine Inch Nails, but rather then simply going for a straight out industrial sound the band takes that sound and mashes it up with the current electro-rock trend doing the rounds. While the effect is not yet consistent, when things come together the Re:Enactment really shine. Shambolic vocals and 8-bit beeps give way to Rhodes organs and searing guitar with nimble ease to create a unique palette of sound. Having just recorded an EP you'll be sure to hear more about the Re:Enactment in 2008.

Re:Enactment - Arctic Circle




A Man Called Son


Including A Man Called Son, a.k.a Simon Pearlman, in this list might be cheating a bit. Simon has spent the last couple of months in Europe, and apparently has the intention of moving to Melbourne once he returns. But credit where credit is due, A Man Called Son creates some of the most beautiful music with even one foot in Brisbane at the moment. If the songs 'Been Here Too Long' and 'Sundogs' are anything to go by then A Man Called Son's

Survive In The Shadows

EP and debut album, both to be released in 2008, are certain to be well received.



Arrows


Arrows sound like a less whiny Smashing Pumpkins (I don't really like Smashing Pumpkins, I quite like Arrows however). They also sound like a more up tempo Slint. This combination works wonderfully as anyone who has heard the 12" they released with These Hands Could Separate The Sky back in October will attest. Having just signed to Victorian-based Hobbledehoy Records, Arrows are preparing to record their debut album which will hopefully build on their promising sound.

Arrows - Don't Interrupt Me While I'm Working



To The North


To The North also seem to utilise Slint as a touchstone, but end up spinning it off into a post-Hardcore sound in the vein of Fugazi or Big Black, with a little bit of jazz influence thrown in for good measure. The result is a sound as intriguing as it is messy. Although having just released an EP, To The North plan on returning to the studio in January. Keep an ear out for the results of this venture.

To The North - We Are Not Ashamed (Live)



Do The Robot


If you felt the need to pidgeonhole Do The Robot you would most likely go straight for the Shoegaze tag, and you probably should given guitarist Matt's penchant for Kevin Shieldsesque guitar antics (My sincerest apologies for using that expression). But leaving it at that would fail to do justice to Do The Robot's unique sound, a sound that melds indie pop, trip-hop, and shoegaze into a beautiful, yet noisy affair.




Feathers


Sounding like some unholy trinity of The Stooges, Bauhaus, and The Slits, Feathers are following that long upheld tradition of Brisbane bands: making a lot of noise. This all female trio have yet to have a release yet so keep an eye out in 2008.




Willows


For a band that has only been playing live since September, Willows have a very unique sound, taking the sound of early 90's lo-fi bands like Archers Of Loaf and Guided By Voices and twisting into epic post-rock arrangements. If they can build on that sound they could turn out to be a major player in Brisbane music by the end of 2008.



Nova Scotia


No guessing where Nova Scotia's influences lay, as it blatantly states on their myspace, "sounds like (a) Pavement ripoff band." And while it is difficult to not conjure thoughts of Pavement while listening to Nova Scotia, it isn't difficult to realise that their debut EP,

Bear Smashes Photocopier

, was one of the best Brisbane releases of 2007.



Secret Birds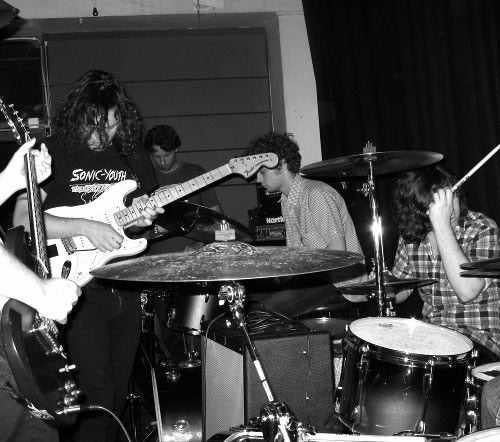 I can't admit to knowing a lot about these guys, but from the random tidbits of information I've gathered I really like the sound of them. Comprising of members of a number of good Brisbane bands from the past and present (On/Oxx, Stature::Statue, John Steel Singers) and excessive amounts of percussion, the Secret Birds ply a sound reminiscent of the new wave of psychedelic rock bands like Comets On Fire. I promise to catch them live early this year and give you some more solid information.



Let's Not (But Say We Did)


Let's Not (But Say We Did) is the vehicle of Nick Smethurst, a folkster of quite some talent. Trying to think of a comparison to his lyrical style my mind continually returns to Grant McLennan (and I don't say that lightly). While the band had planned to release its debut album in 2007, a lineup rotation with the addition of three members has lead to delays. The album,

Epithets

, will be recorded early this year.

Let's Not (But Say We Did) - Now See The Film (Live At The Troubadour)